In the categories section you can easy perform such operations by helping with top toolbar's options:

Use the context menu to open the list with possible categories operations:
To refresh data of category section- click on the appropriate button  -

;
By pressing the add/edit buttons in the toolbar -

- you call the edit category's data form.
To remove selected category(ies) with all data from the category tree press 'Delete' button -

.
To collapse/expand category tree help the corresponding buttons -

.
In case you need to show or hide category ID column the following option will be useful for you -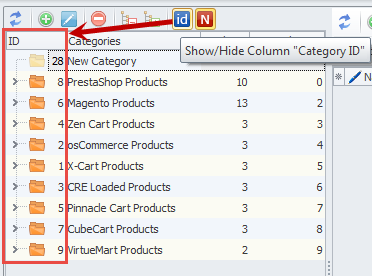 To show or hide
'Number of Products
' column in Category tree click on the appropriate button on the top toolbar.